£100 GIVEAWAY ON OUR INSTAGRAM @CLOUTCLOSETUK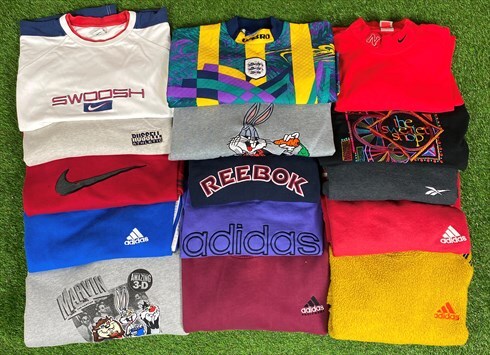 Top Rated Seller
Brighton, UK
Taking the Vintage world by storm, our exclusive international suppliers allow us to provide you with...
Positive

(280)

Neutral

(21)

Negative

(0)

Vintage Adidas Shorts in Blue with Embroidered Logo, Pockets

Vintage 90s Hoodie in Grey with Monogram Print Logo.
Louis Vuitton Padlock Necklace in Shiny Gold Colour
Vintage Ellesse T-Shirt in Yellow with Embroidered Spell Out

Vintage Fila Polo Shirt in Navy with Embroidered Logos.

Vintage Adidas Shorts in White with Embroidered Logo
Vintage Mizuno T-Shirt in Red with White Printed Logo.

Vintage Champion T-Shirt in Green with Basketball Printed Lo

Vintage Hummel Shorts in White with Embroidered Logo

Vintage Puma Wigan Warriors Rugby Shirt in Red and White Str

Vintage Adidas Shorts in Navy Blue with Embroidered Logo
Vintage Giorgio Armani Sweatshirt in Beige with Embroidered

Vintage Umbro Sweatshirt in Grey with Embroidered Spell Out

Vintage Adidas Shorts in Black with Embroidered Trefoil Logo

Vintage Adidas Shorts in Blue with Embroidered Logo

Vintage NFL Miami Dolphins Sweatshirt in Turquoise Blue with

Vintage Adidas Shorts in Navy Blue with Embroidered Logo
Vintage Adidas Zip Windbreaker Track Jacket in Navy Blue

Vintage Le Shark Fleece Sweatshirt in Light Blue/Grey

Vintage Bugs Bunny Looney Tunes Sweatshirt in Grey with Embr