Check out our other boutique YIFY ›
VAT No: 163147421
Top Rated Seller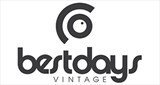 Colchester, UK
HELPING YOU LOOK AND FEEL GOOD. Free UK shipping! Follow us on instagram @bestdaysvintage for 10% off...
Positive

(4093)

Neutral

(37)

Negative

(19)

Vintage Sweatshirt In Turquoise With Sequins.

Vintage Nike windbreaker jacket in black.
Vintage Shell Jacket in black with abstract print.

Vintage Oversized Wrangler Denim Jacket in Blue .
Vintage Grunge Cardigan in Green

Vintage Adidas zip up Hoodie in Grey .

Vintage Columbia check shirt in blue .
Vintage Aztec Wool 90s Jacket

Vintage flannel shirt in purple.

Vintage U.S Army Camo jacket

Vintage Tommy Hilfiger shirt in blue with logo
Vintage Joop Jeans zip up outdoors jacket in brown

Vintage Adidas sports jacket in black.

Vintage Adidas Sports Jacket in Grey .

Vintage abstract shirt in brown

Vintage 90s abstract pattern shirt in red.
Vintage abstract pattern shirt.

Vintage Lacoste striped t-shirt

Vintage Lonsdale hoodie in black with logo.
Vintage oversized Dickies workwear shirt in grey.